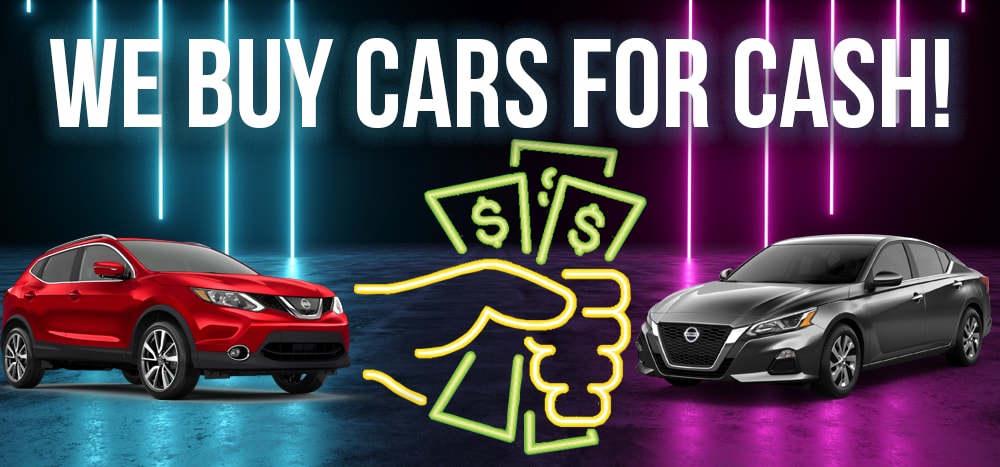 Turn Your Car Into Cash!
We Will Buy ANY Car: Yes, you read that right! Any car, any condition, any make, any model! We want to buy your car from you for cash!
No Pressure: We will buy your car even if you don't buy a car from us!
Our Appraisers: We have over 60 stores in our group so we know what is hot in the market right now! That means we will know how to properly evaluate your vehicle and give you the best deal possible!
Free and Fast: Appraisals can take as little as half an hour and is 100% free to you! No obligations here at Nissan Arapahoe. If you'd like to see what your vehicle is worth online, check out our Kelley Blue Book Trade In Tool!
One Stop Shop: Sell us your vehicle, and then turn around and buy the new vehicle you've been dreaming of. We have over 700 new vehicles in stock and close to 100 used vehicles ensuring, we can find the perfect vehicle for you!
What Makes Us Different?
We aren't just selling cars, service and parts, we are selling Quality and Honesty. We have a saying here at Larry H. Miller Nissan Arapahoe we call the Everything Matters Difference. We want to make sure that every step of your trip to see us is perfect and that is why we focus on every little part of your trip. 
Larry H. Miller is family owned and operated and always have been. That is why we live to serve our customers. This makes us different from every other publicly-traded company on the block who is only focused on their bottom line. You may notice the phrase "Driven By You" around our dealership and website. "Driven By You" means that we treat the customer with respect, honesty and the transparency that you expect and deserve when purchasing or selling a car. 
Why Should You Sell Your Car to A Private Party?
With Larry H. Miller Nissan Arapahoe, there are no banks, no credit unions, no bounced checks and no money orders to deal with! Simply walk out the door with a check or cash today! We want your vehicle even if you don't want one of ours!
Tell Us About Your Car
Hours
Monday

9:00AM - 8:00PM

Tuesday

9:00AM - 8:00PM

Wednesday

9:00AM - 8:00PM

Thursday

9:00AM - 8:00PM

Friday

9:00AM - 8:00PM

Saturday

9:00AM - 8:00PM

Sunday

Shop Online 24/7