Electric cars are here and they aren't going away. No exception to that is the Nissan Leaf. Good for the environment and your wallet, it's no wonder why the Nissan Leaf is the best selling electric car, accounting for
28% of electric cars
sold in the U.S. according to 
cheatsheet.com
.
Being the best electric car on the market is no easy feat. The Nissan Leaf in Centennial has been remastered and redesigned in the past year to dominate all other electric vehicles. Some recent improvements are: Lower price, longer battery life, more power, intelligent driving, sleek new look and improved safety technology. AKA, the best parts of a car.
Range
Featuring a
robust 40KWh battery
, the Leaf has a
150 mile battery life
. This means you can spend less time sitting around waiting for your vehicle to charge and more time out on the open road.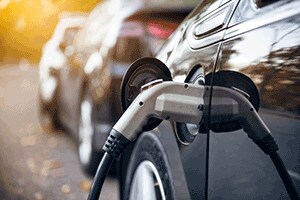 All New Design
The Leaf just got a face lift. With a Nissan V-motion grille, boomerang tail lamps and floating roof, the Leaf looks sleeker than ever. The interior wasn't forgotten. Nissan Gliding Wing form instruction panels were added for a modern interior design. The shape of the Leaf has also been changed to ensure a smoother and quieter ride. This also helps range efficiency in case of strong winds.
Intelligent Driving
ProPilot Assist helps keep the Leaf on the highway and makes driving easier on the driver. The system allows you to maintain a safe distance from the car in front of you and also helps keep the vehicle in the middle of your lane. It also allows the car to come to a complete stop and then start again without intervention from the driver. 
Intelligent Integration
Nissan Connect includes remote lock and unlock features, speed alerts, Automatic Collision Notification, emergency calling and mobile phone connect-ability. You can even download the new NissanConnect EV smartphone app and manage the a/c, charging of the vehicle and even plan your route from your phone.
Safety Technology
The new Leaf has been upgraded with tons of safety options and features. These include AEB radar that detections motion ahead of the vehicle so that the vehicle can apply the brakes. A BSW that has been added in the passengers and drivers door to indicate when a vehicle is detected in a blind spot. RCTA also allows the vehicle to notify the driver of a car when backing out of a parking space.
Check out all the information you will need to know about the Nissan LEAF on our Nissan LEAF Page. 
Schedule a Test Drive
Hours
Monday

9:00AM - 8:00PM

Tuesday

9:00AM - 8:00PM

Wednesday

9:00AM - 8:00PM

Thursday

9:00AM - 8:00PM

Friday

9:00AM - 8:00PM

Saturday

9:00AM - 8:00PM

Sunday

Shop Online 24/7