Batteries - Preventing & Diagnosing Battery Issues
Car batteries normally only have a life expectancy of a maximum of four years! This is why it is important to replace your vehicle battery BEFORE you start having problems. Swing by Larry H. Miller Nissan Arapahoe at 10030 East Arapahoe Road, 80112. There we will be able to test your battery for free. 
A car battery relies on three things. The first is the alternator. Second is the starter. And the third is the batteries terminals. While your old battery may not show any symptoms of failure, it can still negatively impact your vehicle. This means that your battery can be adding repairs to your vehicle without you even knowing. 
What do you do if your battery won't start?
Engine Cranks, but doesn't start. 
If you are trying to start your vehicle and can hear the engine turning over, but it won't start, it is probably your battery. Don't let your battery fool you into thinking this is a problem with your starter or alternator. The battery may even read as "good" under amperage, but the voltage is actually the problem.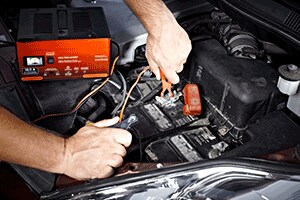 This is the time that the jumper cables you got for your seventeenth birthday come in handy. You'll want to jump your car battery. Leave the car running for around 30 minutes then turn your vehicle off. Wait a minute, and try and start your vehicle again. Do this two or three times to give your battery some life and to make sure you won't be stranded next time you hit the road. Assuming you did this right, you'll charge the battery for a day or two of use. Be smart with this borrowed time and head into Larry H. Miller Nissan Arapahoe so we can take a look at your battery. 
No Lights, No Starting, or Cranking. 
If your vehicle can't even turn on the lights, crank the engine or turn over it is likely a combination of problems involving the alternator and battery and you should consult one of our certified technicians immediately at (888) 450-1229. 
Starts once and then dies.
Also referred to as an intermittent problem, it may be due to the fact that your battery terminals are loose, broken, calcified or corroded. We at Larry H. Miller Nissan Arapahoe will check your battery for free, even a small problem with the terminals can cause major issues with your vehicle.
Don't wait. Your battery is the life blood of your vehicle. When in doubt - let our team check it out!