Looking for an auto mechanic in Centennial?
The Larry H. Miller Nissan Arapahoe Service team has years of experience and doesn't take service issues lightly. That's why the are some of the best at what they do. 
Certification:
All Auto Mechanics employed by our service department is ASE certified. What that means for you? They had to pass a difficult and rigorous test and therefor we trust them with your vehicle. We can fix any make or model.
High-Quality Repair:
Since we have a great relationship with Nissan, we are able to get the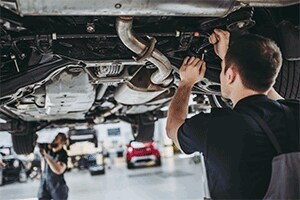 best possible parts for your vehicle. That relationship and our state of the art facility, technologies, and tools to match. Trust us when we say, your vehicle is in good hands with us.
Warranties: Customers in Centennial have been trusting our team for years. Since we stand with our work, and offer a variety of warranties you can have a greater piece of mind when you service your vehicle at Nissan Arapahoe.
Frequently Asked Questions When Choosing an Auto Mechanic
What should you consider when choosing a service department?
Always check the service department's reputation. How much experience do the techs have? What is the turnover rate at the dealership? Departments with a low turnover rate mean that their techs have been there a long time because they are trusted and good at what they do.
Why choose us?
Long hours of training, dedicated staff and years of experience make us one of the best service department's in the Denver area. We strive to be the best service department you've ever been to.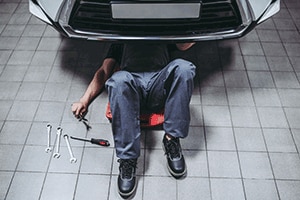 What makes us better than the competition?
We are able to offer quick and reliable service that is convenient for you. All repairs are done in house, and by our experienced staff. Tires, brakes, batteries, oil changes and a lot more. There is nothing our team hasn't seem before.
What do you get with us that other auto shops don't provide?
Our Service Techs will walk you through their repair process and give you options on how to repair your vehicle so you can make the best decision for you. And again, our relationship with Nissan means that your vehicle only gets the best parts during your repair process. We want to be the best place in town to work and the best to do business and that means giving you the best service from the best service techs in Centennial.
Are dealership service departments more expensive than local auto shops?
This is the biggest misconception out there. We consistently monitor the pricing of our competitors to ensure we're competitive, if not cheaper. See for yourself by looking at our
service specials
 and
parts specials
. Add to that our ASE certified auto technicians, genuine Nissan tools and parts and there's no comparison.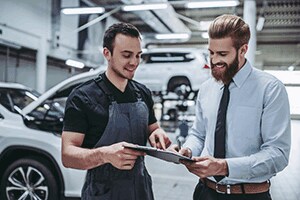 Ask Our Service Team
Hours
Monday

7:00am-6:00pm

Tuesday

7:00am-6:00pm

Wednesday

7:00am-6:00pm

Thursday

7:00am-6:00pm

Friday

7:00am-6:00pm

Saturday

8:00am-5:00pm

Sunday

Closed